如何查看網站的統計資料 How to view website statistics (Plesk)
1) 統計所提供的資源的使用方式的詳細的報告,您可以看到您的當前磁碟空間和頻寬使用率。 現在轉到網站及域名。
Statistics are detailed reports on how the resources provided are being used, you can see your current Disk space and Traffic usage.
Now go to Websites & Domains.
2) 按一下 Web 統計。
Click Web Statistics.

3) 按一下視圖連結對應的域的名稱。
Click the View link that corresponds to the domain name.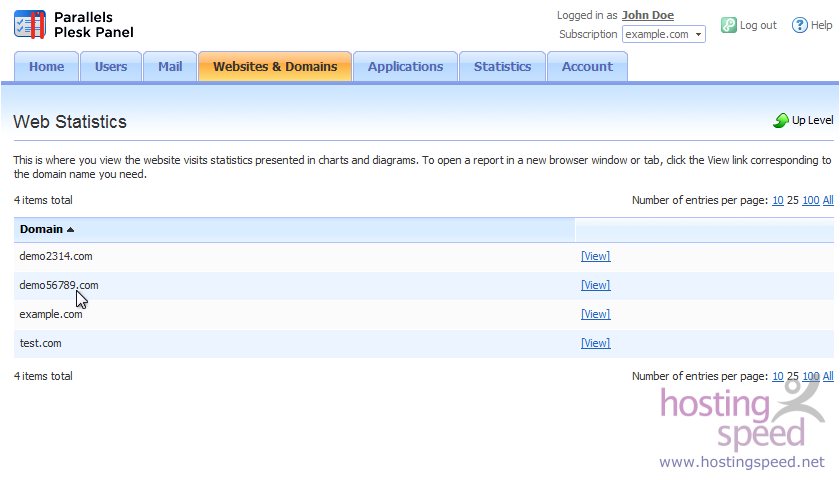 4) 接下來,轉到統計資訊選項。
Next, go to the Statistics tab.

5) 此頁顯示當前訂閱的磁碟空間和頻寬使用方式,按一下資料傳輸統計查看網站及郵件的流量統計月報。
This page shows the disk space and bandwidth usage for the current subscription.
Click Data Transfer Statistics to view monthly reports on how traffic is used by websites and mail.
此頁顯示為 FTP、 HTTP、 POP3/IMAP 和 SMTP 服務的統計資訊。
This page shows statistics for FTP, HTTP, POP3/IMAP, and SMTP services.

6) 選擇不同的時間。
Select a different time period here.

7) 按下向上一級以返回到前一頁。
Click Up Level to return to the previous page.
8) 按一下 FTP統計查看上傳輸和FTP 網站的資料量詳細的報告。
Click FTP Statistics to view detailed report on the amount of data transferred to and from our site through FTP.